This section explains how to load an entire folder tree and its files from your disk to a HelpServer project gallery. As you walk through this example you will see that the entire tree hierarchy is reconstructed and that all files are neatly organized in the gallery 'File' subfolders.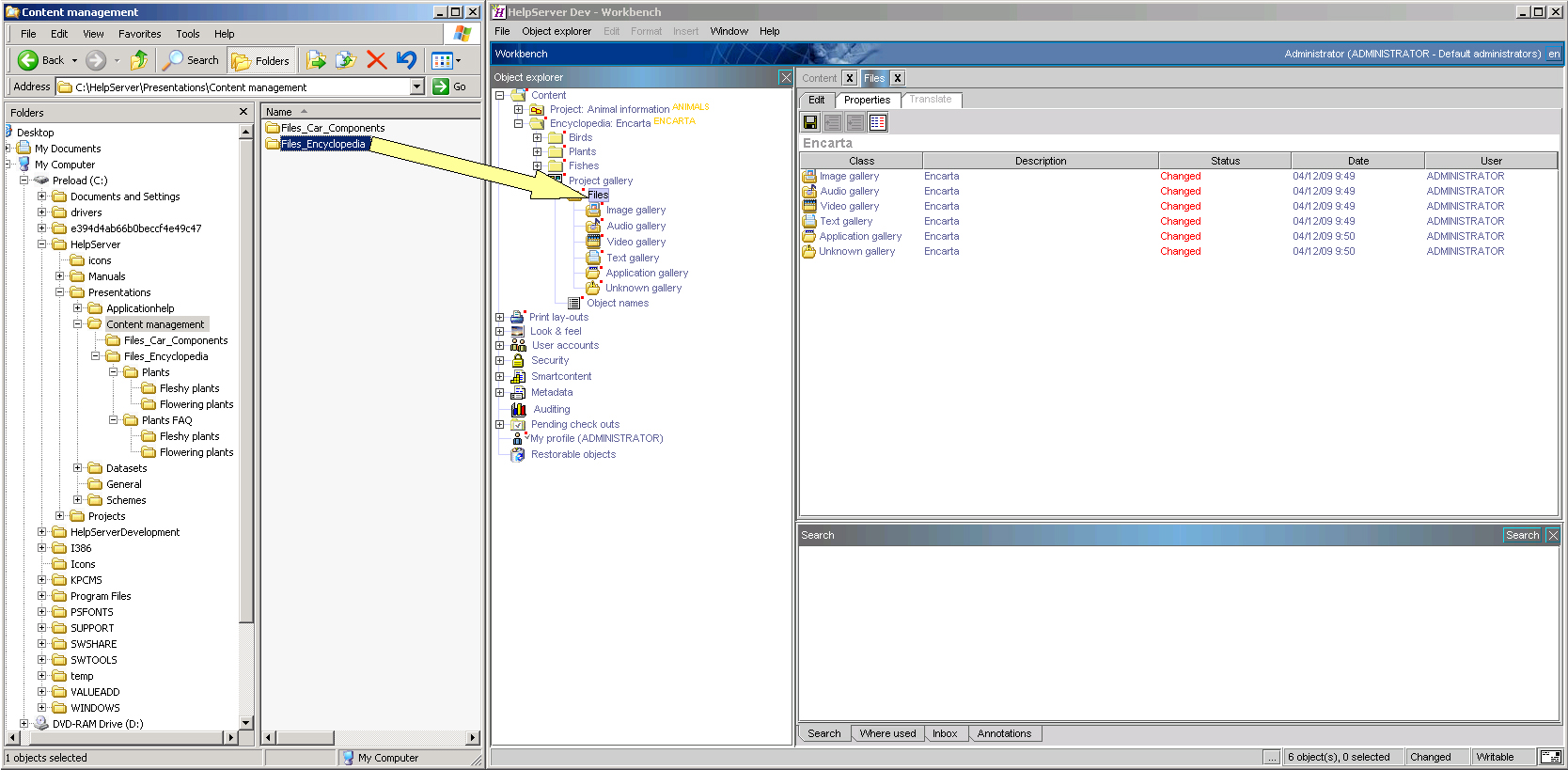 Dropping a folder on a project gallery
Step 1
Drag the folder from the Windows Explorer and drop it on the 'Files' subfolder of the project gallery.
Instead of dragging and dropping the folder you can also popup the menu on the gallery 'Files' subfolder and select 'Import>Folder'. Next, you select the folder from the 'Folder chooser' window.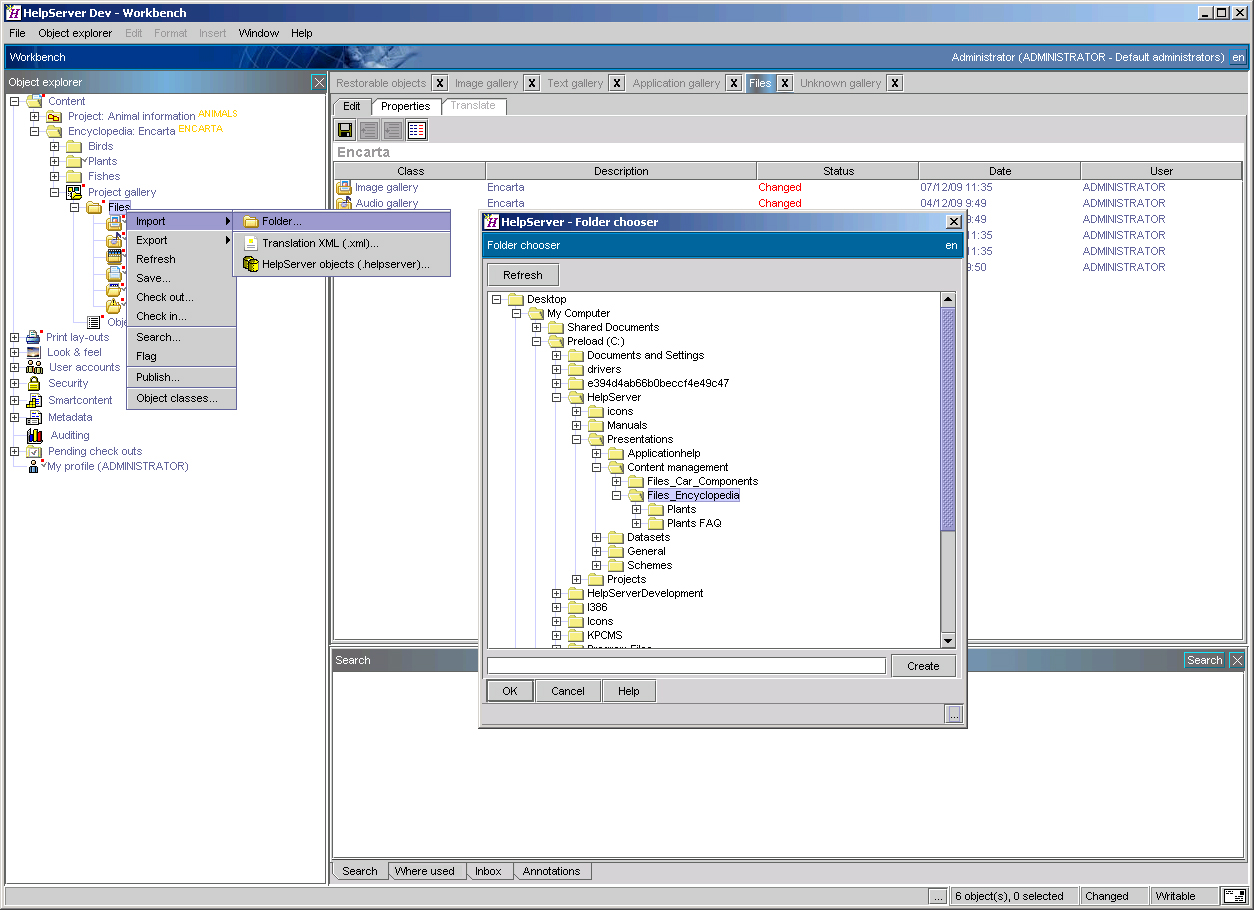 Selecting a folder from the 'Folder chooser' window
The moment you have dropped or have chosen the folder, the immediate dependants of the 'Files' subfolder in the gallery are automatically checked out. These are the gallery folders to hold the different categories of files: 'Images', 'Audio', 'Video', 'Text', 'Application', and 'Unknown'. If one of these folders is in use or if you interrupt this process, the operation will be aborded.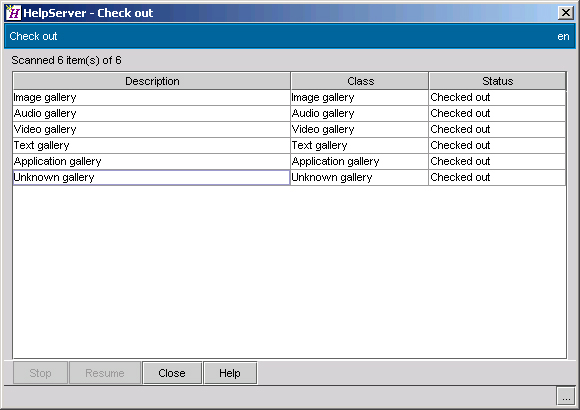 Checking out the project gallery's immediate dependants
As soon as the check out is completed successfully, the 'Import folder' window will open. This window shows the gallery's 'File' folder and its checked out subfolders.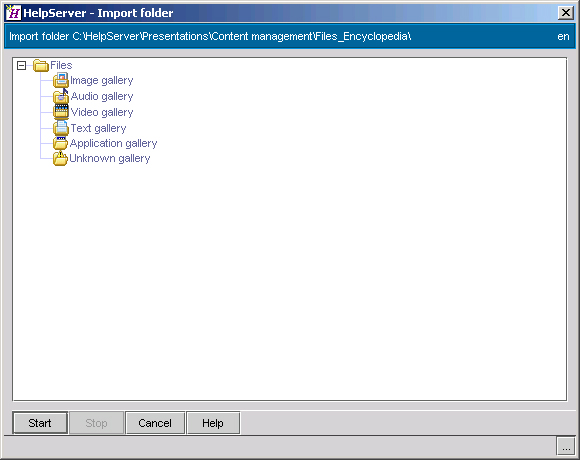 Starting the import of a folder tree with files
Step 2
Cick 'Start' and the folder on your disk will be scanned . The system will automatically reconstruct the folder tree under the different 'File' subfolders: 'Images', 'Audio', 'Video', 'Text', 'Application', and 'Unknown'.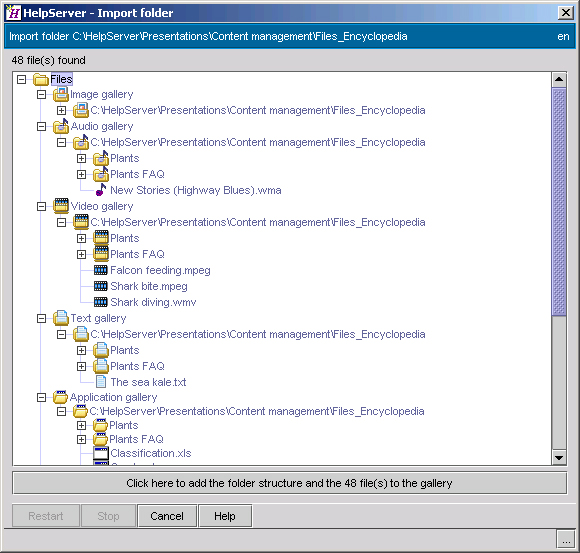 Folder is scanned
Step 3
The moment the scan process is finished, you can explore the result. In our example we have a mixture of file types and hence multiple new folder trees have been constructed. Should it only contain images, then a new folder structure will only be created under the 'Images' subfolder. Should it also contain audio files then the same folder structrure will be created under the 'Audio' subfolder.
To proceed you have to click the 'Click here to add the folder structure and the files to the gallery' button. The new folder structures will then be added to the project gallery.
Saving the new folder structure under the gallery folder
Next, the entire new work is automatically saved and checked in.
| | |
| --- | --- |
| | At this point no file has been loaded yet. The actual loading of the files will automatically start as soon as the entire new folder structures are correctly saved and checked in. So, it is important not the interrupt this save/check in process. |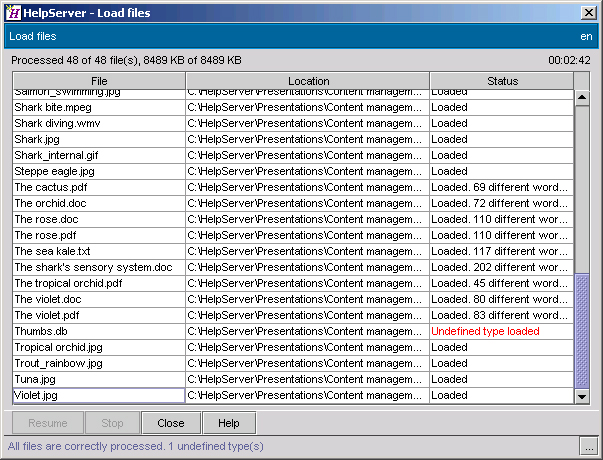 Loading the files
Finally, all files are loaded. After a successful load operation, the files will appear in their associated subfolder of the gallery as shown in the next image.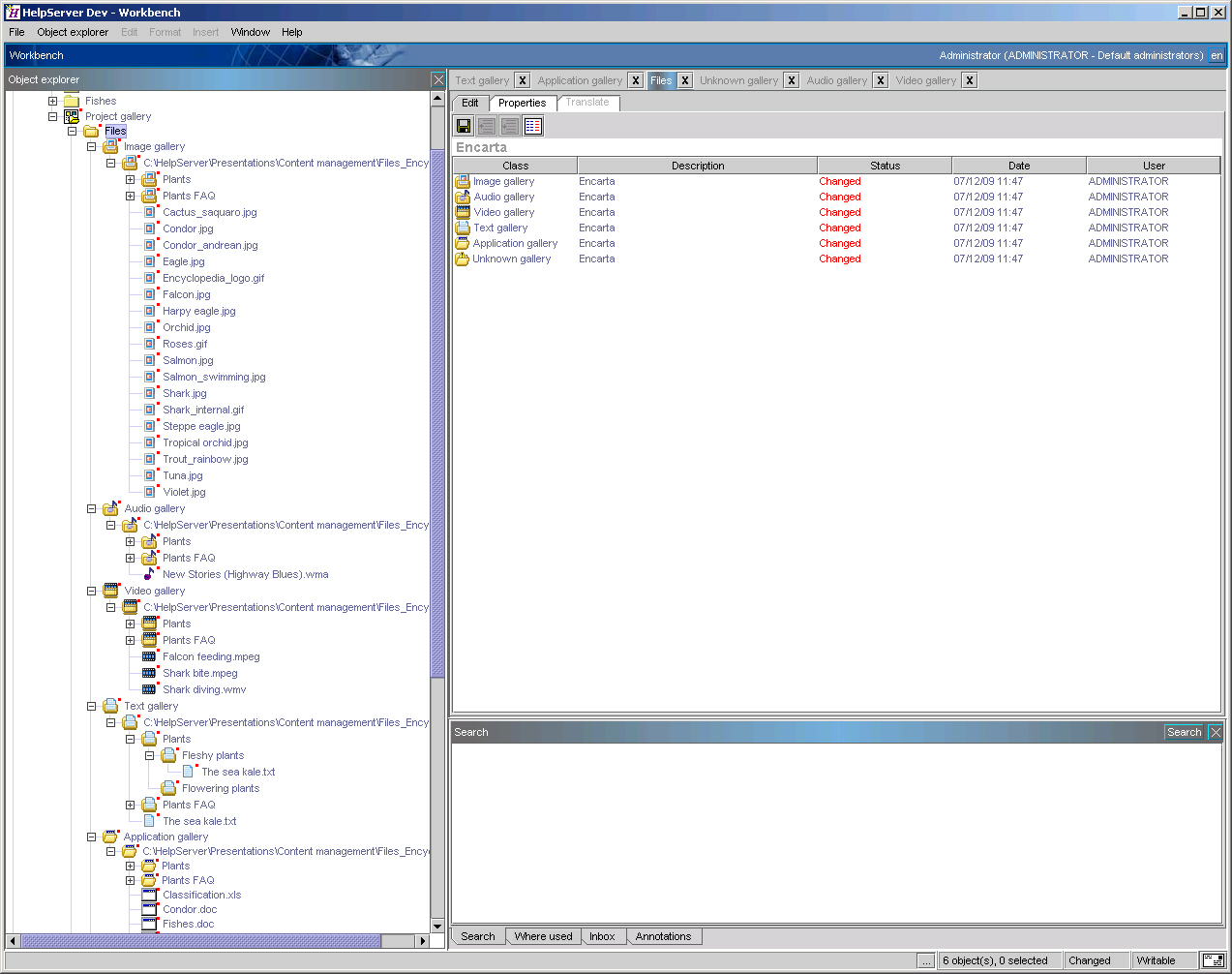 New folder and files loaded in the project gallery
Notes
| | | |
| --- | --- | --- |
| • | In stead of dropping on the gallery's 'Files' subfolder, you can also drop the folder on for example the 'Images' folder or on one of its subfolders. Then the system will only load the image files. If you drop on the 'Audio' category only the audio files will be loaded, etc... | |
| | | |
| --- | --- | --- |
| • | You can rearrange and rename the subfolders in the gallery and you can move files to another subfolder at any time. It will not have any effect on files that already might have been inserted in the content topics. | |
| | | |
| --- | --- | --- |
| • | You cannot drag and load multiple folders in one operation. | |