HelpServer allows you to create and mark up your content as you would do with a normal text processor. If people browse the HelpServer content it is automatically rendered by the HelpServer web server. So, authors do not need to write any html code or produce any script or css.
However, you can insert html-code objects in the HelpServer topics. You use these objects to for example include scripts, forms, or to apply XML name spaces. Keep in mind that HelpServer does not render the html, or does not process any script or form input/output.
As an example assume we want to include a form to request a HelpServer trial version. To simulate this we have created a small project with a single topic 'Request a trial version'. To include the form, popup the menu in the topic body and select 'Insert>Html code'.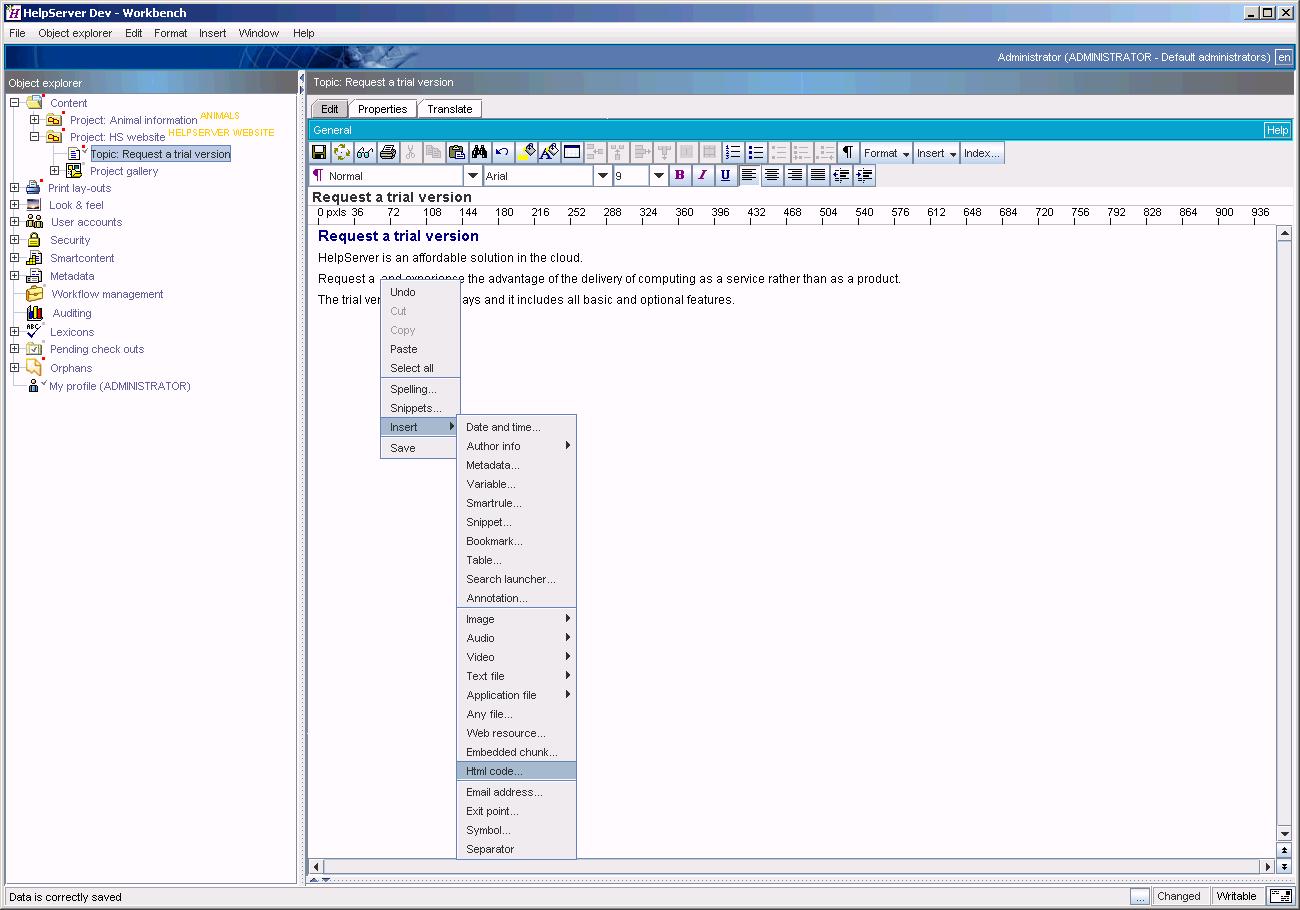 Inserting html code
On the window that opens you specify the Html code properties.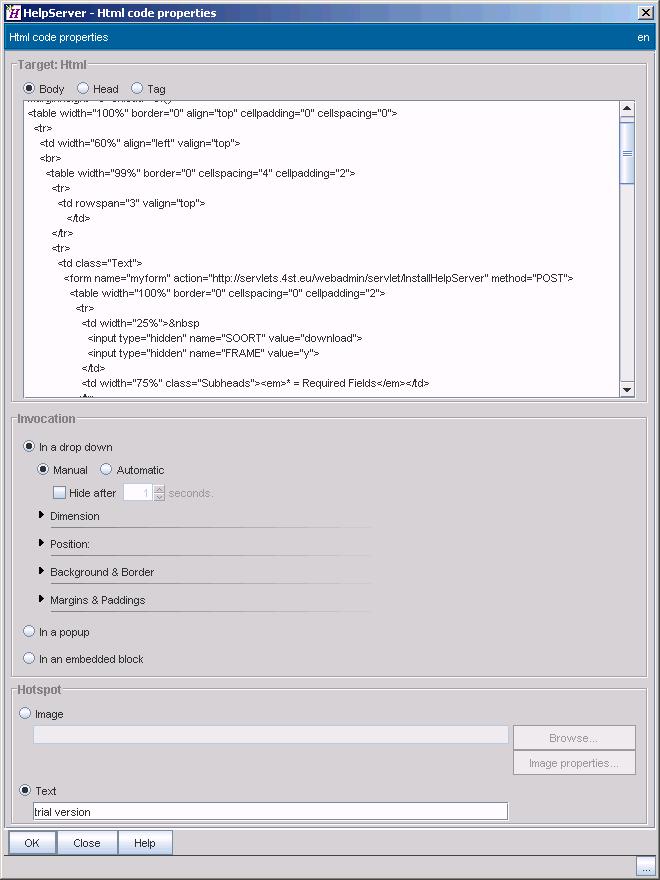 The html code properties
The target
This is actual html code. In this example it is a form but you can add other html stuff. HelpServer distinguishes three types of html code.
Anything in the body section is what you would expect to be see on screen: the actual content. If you put Javascript in the body it is executed as it is read and as the page is rendered.
The head section is usually used to contain information about the page and how to process it, things that you don't necessarily see. Generally Javascript code will function in the head before code in the body or before anything is rendered. You would also link to any external files like .css .js files in the head section as they need to load before the page is displayed.
Tags surround content and apply meaning to it. Tags can also have attributes, which are extra bits of information.
You can include as many html codes as required. Carefully consider what you want to accomplish and select the correct radio button 'Body', 'Head', or 'Tag' on top of the window.
The invocation
The invocation options are only applicable for the html code of the 'Body' type. Furthermore, the procedure behind the html or script you enter might influence the behavior of these options. You have following choices.
The hotspot
The hotspot is the clickable area that represents the html code. It is only applicable for html code of the type 'Body'. By default this html code uses the tag <html: body> as a textual hotspot and it automatically gets the 'html' character style.

Using text as a hotspot
You can change the text in the entry field of the properties window or you can change it directly in the topic body, it won't influence the link mechanism.

Using an image as a hotspot
If you like to present the html code as an image you can click on the 'Browse' button and then select the image from the project gallery or from your file system.
| | |
| --- | --- |
| | The 'Head' and the 'Tag' html code types use respectively '<html: head>' and '<html: tag>' as hotspot but these are only visible in the Workbench and cannot be changed. |