In creating a hyperlink we demonstrated the behavior of a hyperlink pulled out of its context . In creating a pointerpath we have defined a context by means of an alias and a pointerpath to the hyperlink target 'About the shark' of the 'Fishes' book. Here we demonstrate the effect of using a pointerpath in the hyperlink properties.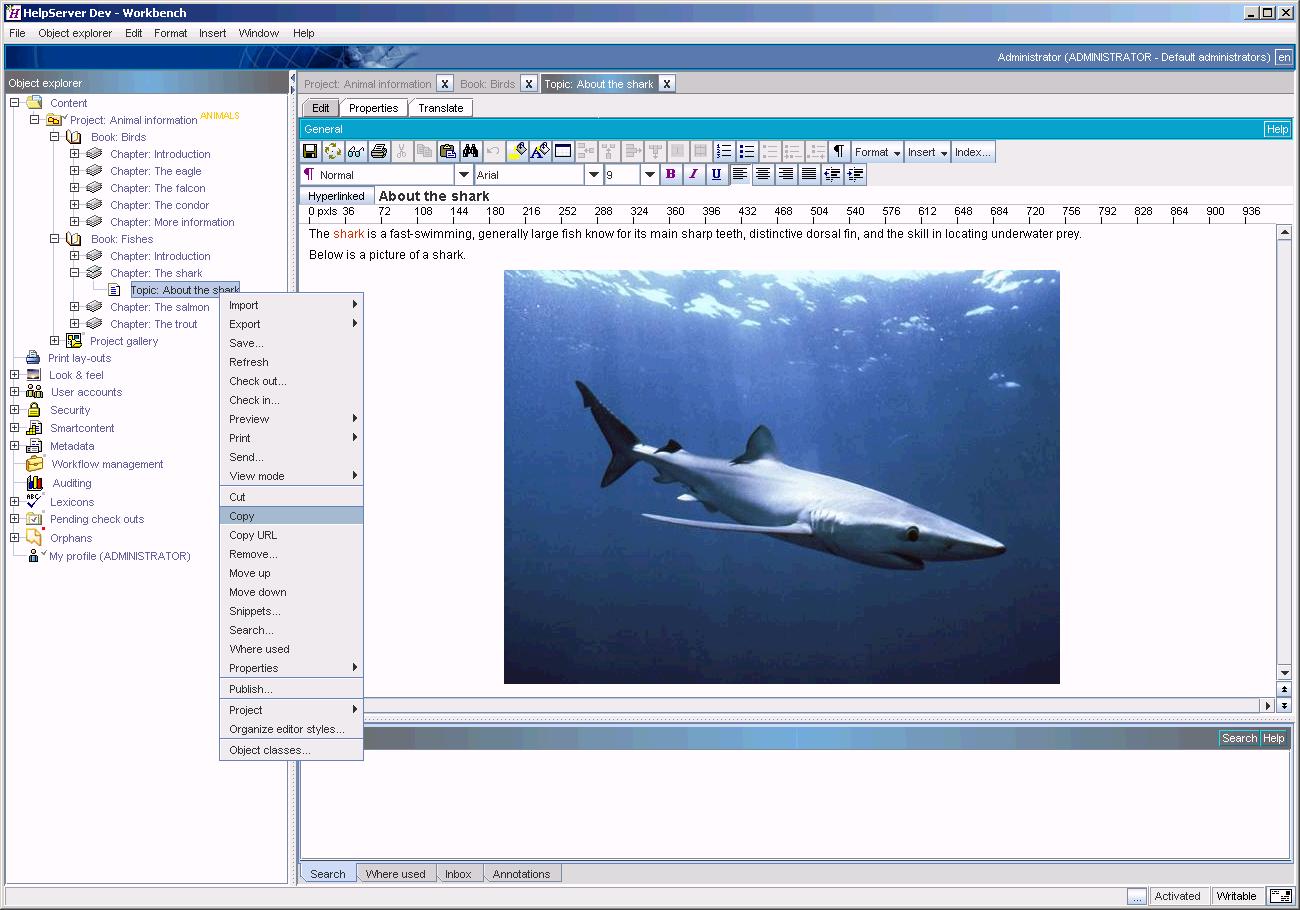 Copying an object
Copy the 'About the shark' topic under the 'Book: Fishes'.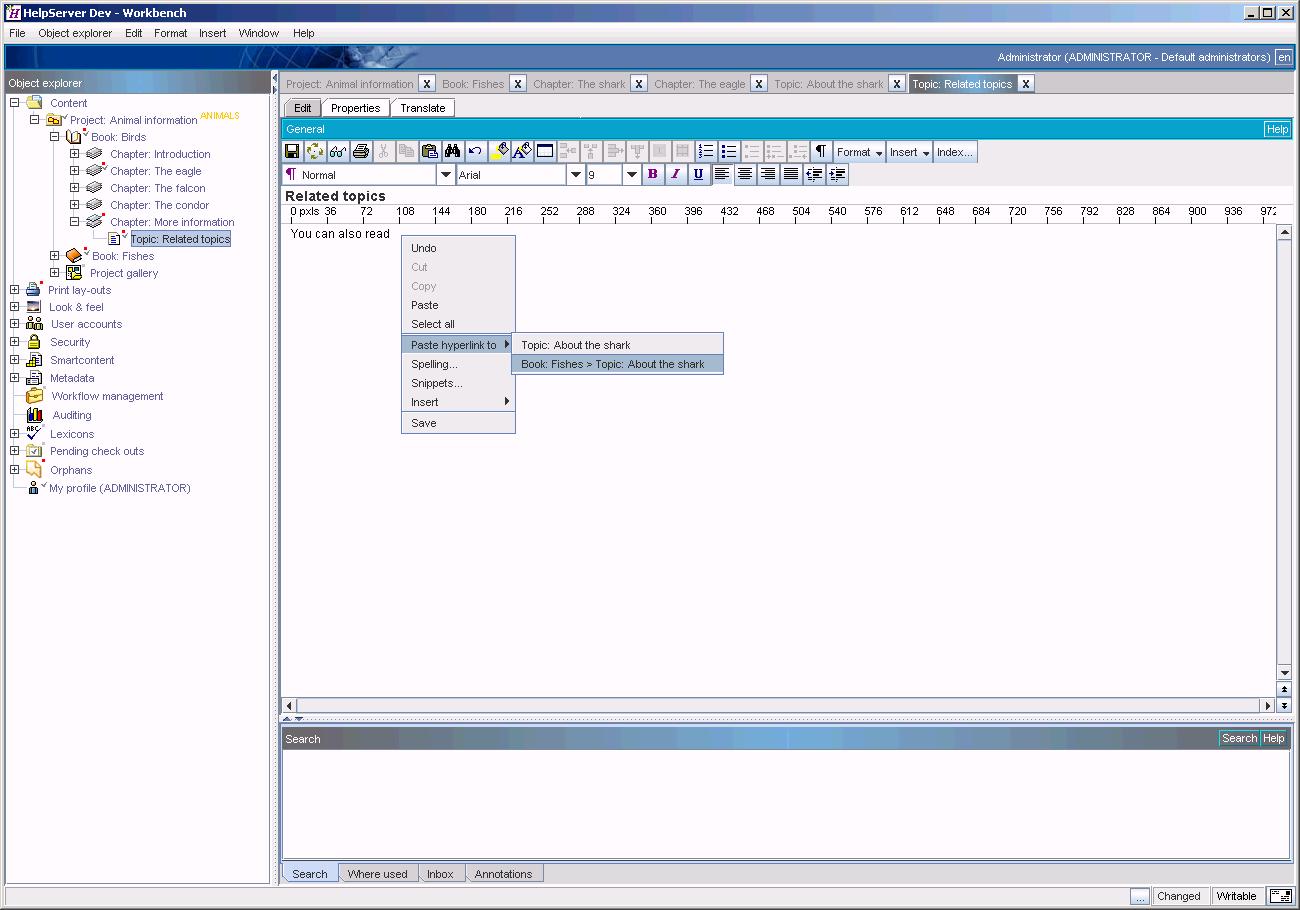 Pasting the hyperlink with the pointerpath
Select the topic in which you want to insert the hyperlink. In this example that would be 'Related topics' under the 'Birds' book. Put the cursor at the point where you want to insert the hyperlink and popup the menu. The 'Paste hyperlink to' menu item now shows two options. The first one is the regular hyperlink, the second one is the hyperlink in a context (having the pointerpath). The string 'Book: Fishes > About the shark' reveals that 'Book: Fishes' is the context of 'About the shark'. This is what we need here.
If the hyperlink is inserted, you can change the hyperlink text if you like.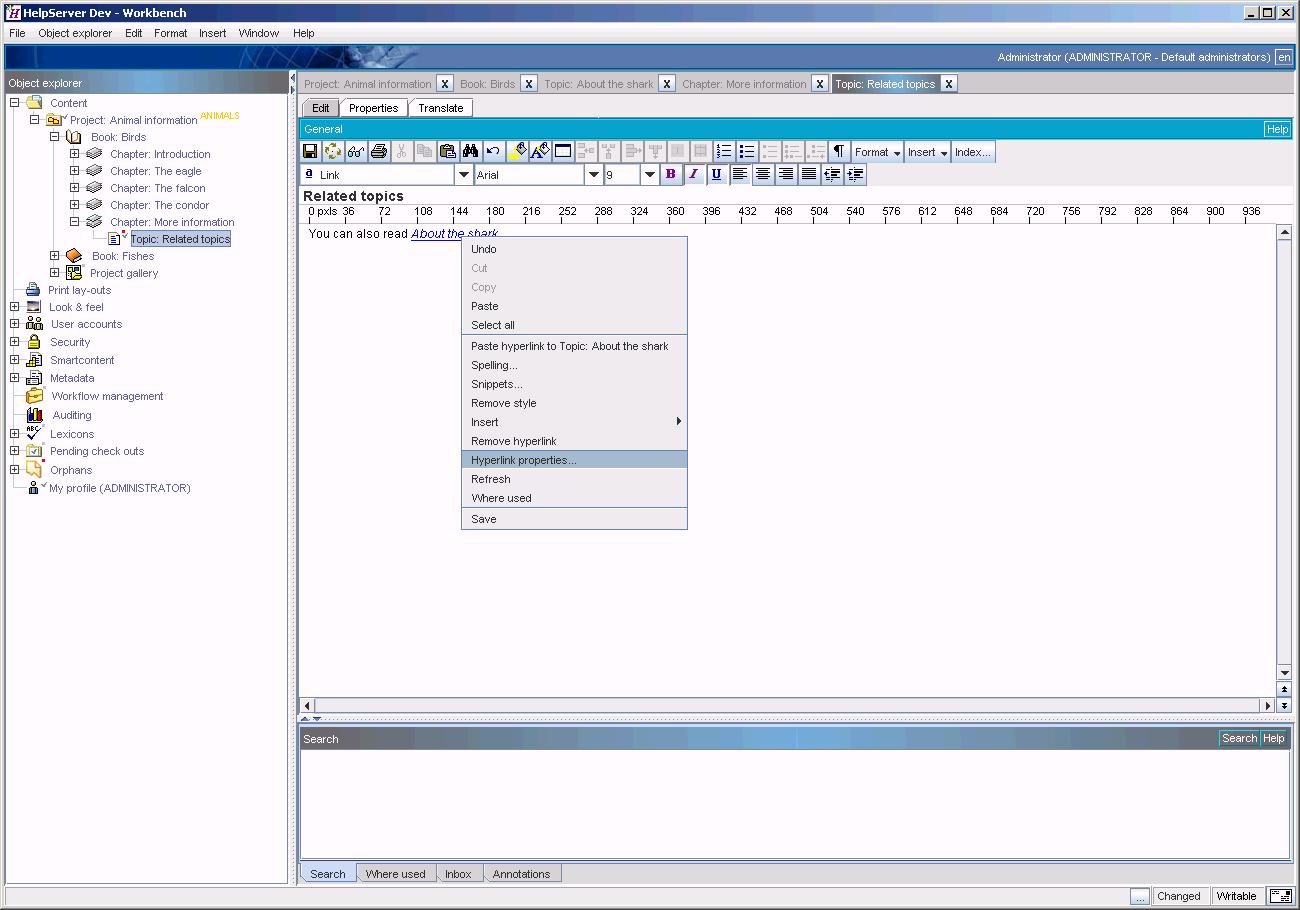 Opening the hyperlink properties
Now open the hyperlink properties by popping up the menu on the link and selecting 'Hyperlink properties'.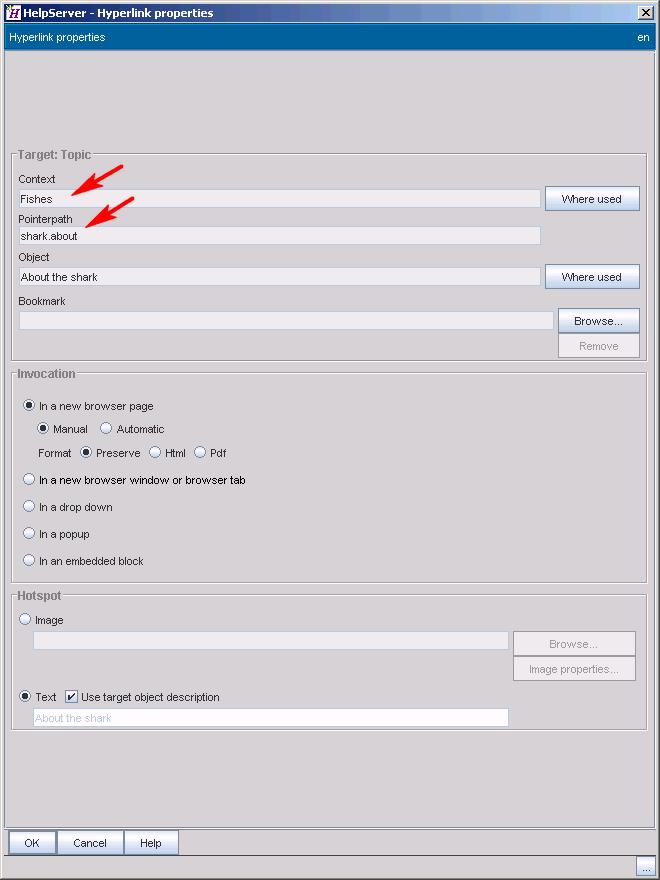 The hyperlink properties
This is just to have a look at two additional options in the hyperlink's properties.
| | | |
| --- | --- | --- |
| • | The 'Context' which is the folder to which the alias is attached. | |
| | | |
| --- | --- | --- |
| • | The 'Pointerpath' which is assigned to the hyperlink target in Creating a pointerpath. This helps the system to locate the target (the 'About the shark') in its context (the 'Fishes' book). | |
To see the effect of this hyperlink now, preview the 'Book: Birds' and select the 'Related topics' item.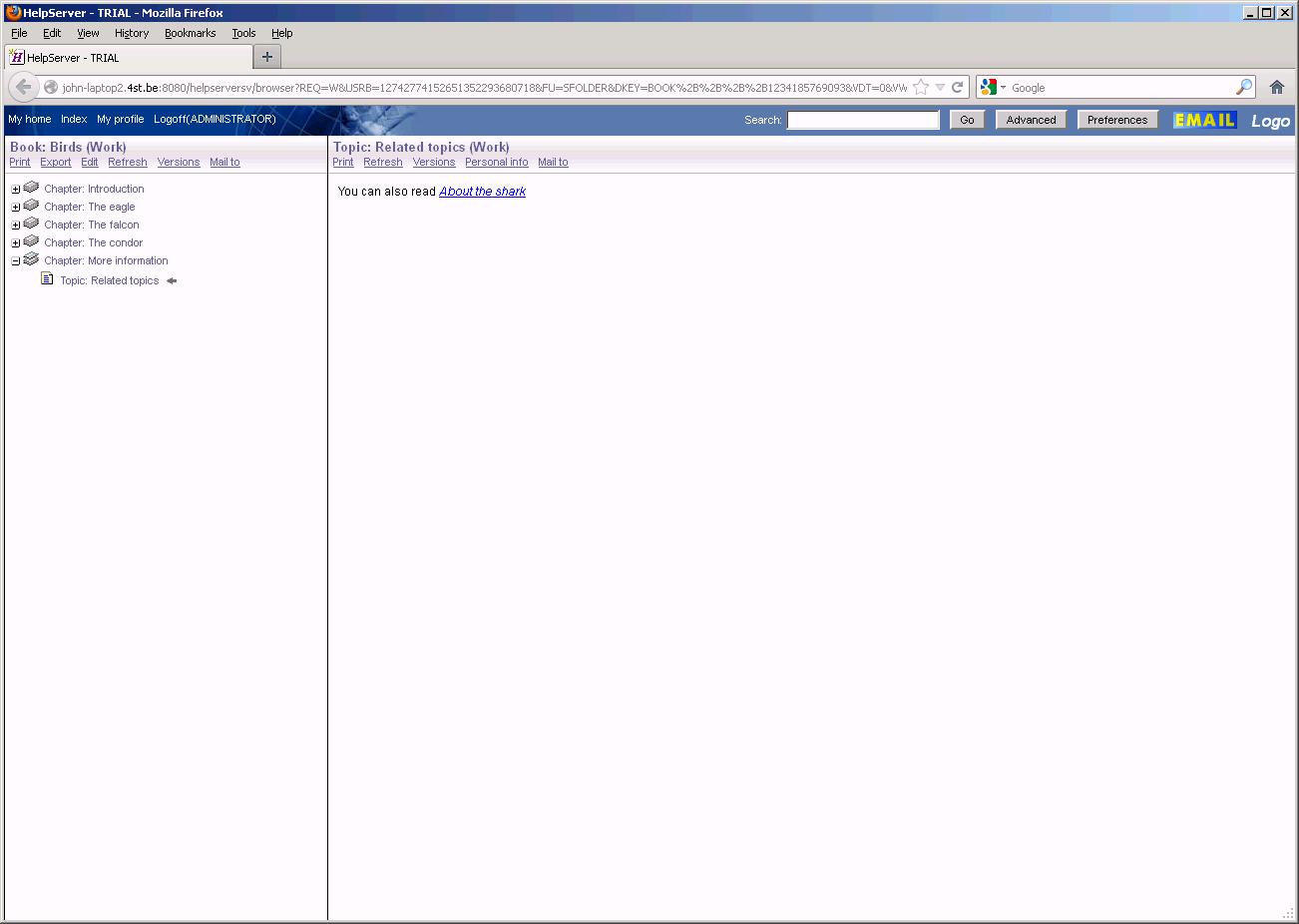 Previewing content with a hyperlink
If you click on the hyperlink its context (the 'Fishes' book) is displayed and the hyperlink target is located and preselected.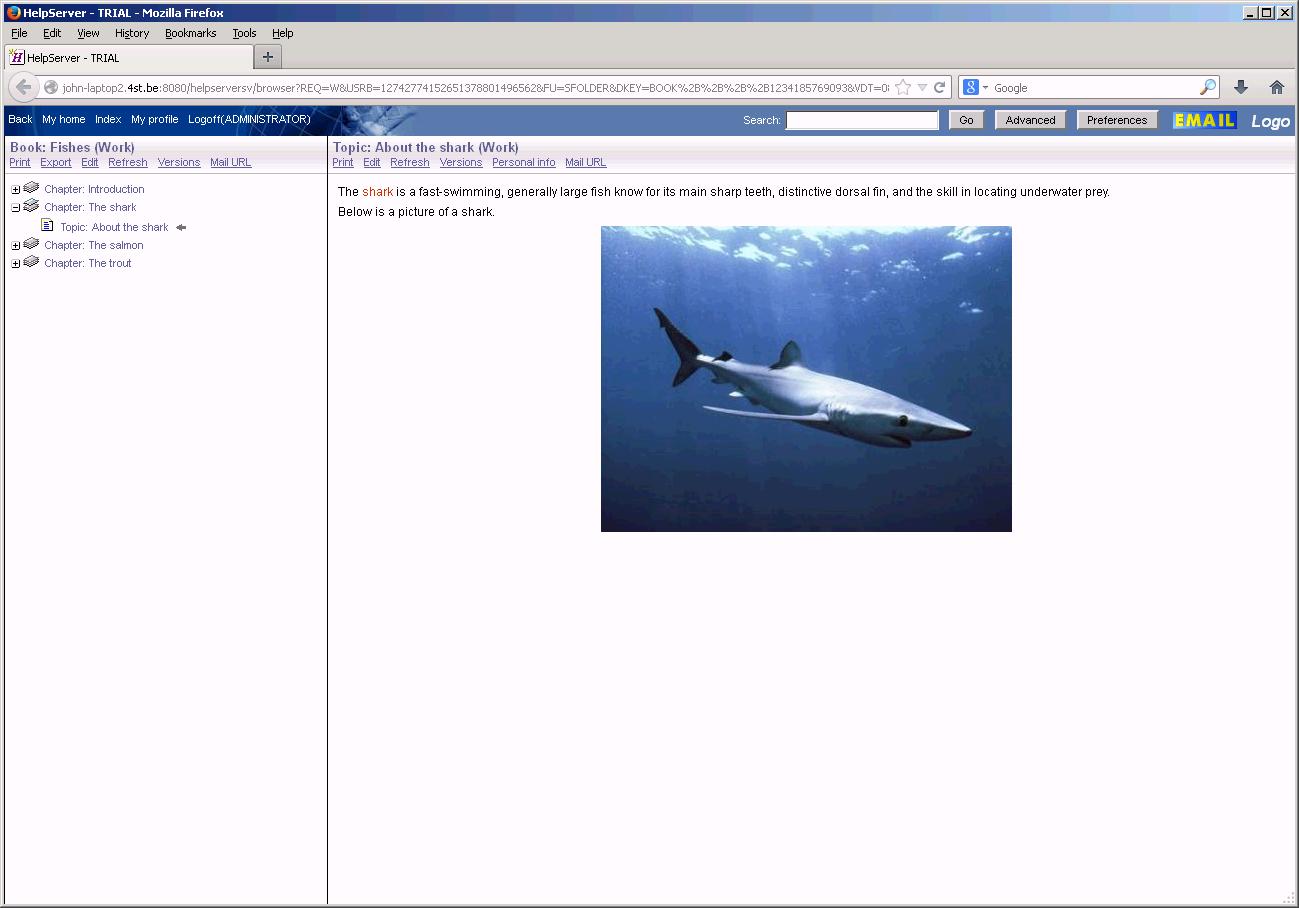 The hyperlink target opened in its scope
Pointerpaths are not mandatory to have nice working hyperlinks. As explained in creating a hyperlink there are several ways to show or jump to a hyperlink target. It is all about how valuable or workable a content object still is when it is shown on its own outside any context. In general, topics are more sensitive to this phenomenon then for example chapters and books.
In other words use pointerpaths with care because when you change the structure of your content the pointerpaths might break. So, there will be some maintenance work involved. This is explained in Detecting and correcting invalid pointerpaths.