If you want to provide content in multiple languages you should indicate the languages that you want to support prior to any translation of the content. You do this on the 'Administration' window.

Opening the Administration window
Logon to a Workbench with the predefined 'ADMINISTRATOR' user ID or any other user ID that is defined in a user group where the 'Administration' function is allowed. Next, select 'Window>Administration' on the main menu bar of the Workbench window to open the 'Administration' window.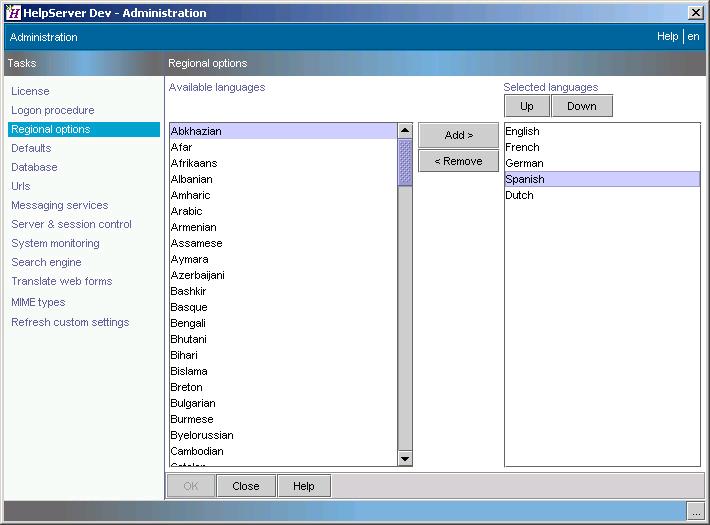 Selecting your company's languages
Click on 'Regional options' on the left pane. The right pane shows two lists. The 'Available languages' are the languages that are currently supported by HelpServer. The 'Selected languages' are these that are used in your company.
Select in the list on the left and click 'Add' to add other languages. To remove a language, select it in the 'Selected languages' list and click 'Remove'.
If you want to remove a language here it is advisable to check the user profiles first since users may have selected this language in their profile.

Furthermore, the system will try to remove the information translated in that language, the moment the authors update the topics.
By using the 'Up' and 'Down' buttons you can define the company's language hierarchy.
Next, click 'OK' to save. Open Workbench sessions should be closed and reopened to use the new settings.